Cr Suzy Batkovic
Contact Details
Business phone: 13 48 10
Mobile phone: 0434 939 419
Email: Suzy.Batkovic@townsville.qld.gov.au

Committee Chairperson
Townsville 2032 Legacy Working Group
Committee Member
Infrastructure Services
Community and Cultural Development
Townsville Water and Waste
Divisional Newsletter - Division 6
We respect your privacy.
Townsville City Council (Council, we, our, us) collects and manages personal information in the course of performing its activities, functions and duties. We respect the privacy of the personal information held by us. The way in which council manages personal information is governed by the Information Privacy Act 2009 (Qld). We are collecting your personal information in accordance with Local Government Act 2009 so that we can contact you regarding your enquiry. We will not disclose your personal information outside of Council unless we are required to do so by law, or unless you have given us your consent to such disclosure. For further information about how we manage your personal information please see our Information Privacy Policy.
Past newsletters
Divisional Map
Council divisions were reviewed by the Local Government Change Commission in 2019, with the boundary changes commencing at the March 2020 elections.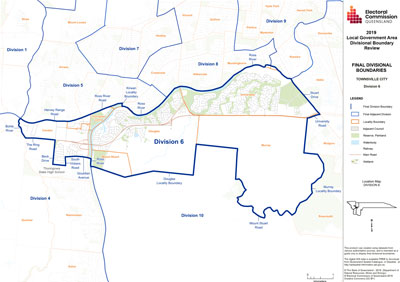 Profile
Suzy Batkovic played professional basketball for 23 years in the USA (WNBA) and all throughout Europe. Suzy moved to Townsville in 2001 and was part of the inaugural team at the Townsville Fire, WNBL club. Since then, this city has held a special place in her heart.
In 2013 Suzy moved back to this city and played for the Townsville Fire until her retirement last year. Suzy won 5 National championships (3 with Townsville Fire). Suzy also represented Australia at 3 Olympics, winning 2 silver medals and one bronze.
Playing professional sport has taught Suzy all about teamwork, leadership, compassion, the importance of listening, how to fight for what's right, and most importantly what it takes to work together to achieve outcomes. This is exactly what Suzy intends to do as your Councillor for Division 6.
Townsville is now Suzy's home, she loves it here. Suzy and her partner Dan have twin girls, Layla and Charli. She has lived in Division 6 for the last 6 years and plans on making this the place where she raises her daughters. She wants them to grow up in a City that has opportunity and she wants them to love this place as much as she does. This is why Suzy will fight tooth and nail to make Townsville the best city it can be.
Suzy is honest and hard working, she will listen and represent the needs of the community she serves with the same passion that made her a champion in her sporting career.