Cr Russ Cook
Contact Details
Business phone: 13 48 10
Mobile phone: 0439 866 640
Email: Russ.Cook@townsville.qld.gov.au
Committee Chairperson
Townsville Water and Waste
Community Safety Advisory Committee
Street Art Activation Working Group
Committee Member
Community Health and Environment
Community and Cultural Development
Advisory Committee
Inclusive Community Advisory Committee – member
Arts and Cultural Advisory Committee – member
Murray Users Sports Advisory Committee – member
Divisional Newsletter - Division 5
We respect your privacy.
Townsville City Council (Council, we, our, us) collects and manages personal information in the course of performing its activities, functions and duties. We respect the privacy of the personal information held by us. The way in which council manages personal information is governed by the Information Privacy Act 2009 (Qld). We are collecting your personal information in accordance with Local Government Act 2009 so that we can contact you regarding your enquiry. We will not disclose your personal information outside of Council unless we are required to do so by law, or unless you have given us your consent to such disclosure. For further information about how we manage your personal information please see our Information Privacy Policy.
Past newsletters
Divisional Map - current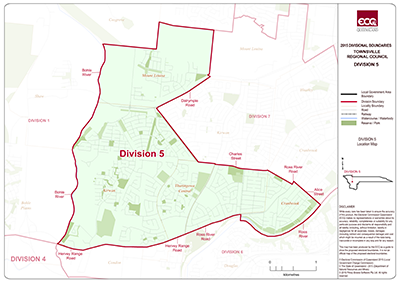 Divisional Boundary as at March 2020
Council divisions were reviewed by the Local Government Change Commission in 2019, with the boundary changes commencing at the March 2020 elections.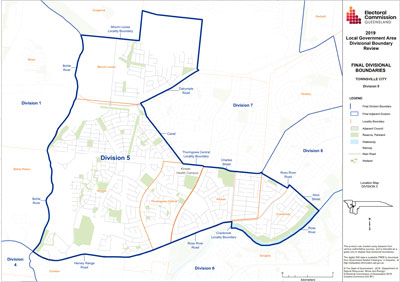 Profile
Russ has strong family ties to Townsville and North Queensland, having been born here with his parents originating from Townsville and Charters Towers. The only time Russ has spent away from the city has been as a Queensland Police Officer, and as an Airframe Fitter in the RAAF. Russ is married with three children and one grandson.
For over 30 years, Russ has been actively involved with Townsville Rugby League as a player, coach, administrator, Director and Club President with the University Rugby League Club. He is now Vice President of Former University Greats (FUGS) an organisation that financially assists past and current players as well as the club itself. Russ is also a Board Member of The Cure Starts Now and is involved with Townsville Youth Council.
As well as his long standing career in the Defence Force and Queensland Police Service, Russ has also owned and operated a range of businesses including turf farms, restaurants, driving schools, cafes and franchise businesses.
Russ has a Diploma in Arts/Psychology which he completed at James Cook University in 2015 and a Diploma in Business Management which he completed at Townsville TAFE in 2010. Russ has also completed the Australian Institute of Company Directors Course and is an Affiliate of the Australian Institute of Company Directors.
Whilst a Queensland Police Officer, Russ was a member of the Public Safety Response Team (PSRT) for 5 years and during this time completed a Diploma in Public Safety (Policing). Over the past 10 years Russ has worked extensively with children at risk in the Townsville community. Coupled with his Operational Policing experience and Public Safety (Policing) Diploma, this has given him the experience, knowledge and stakeholder contacts to continue to working in these areas.